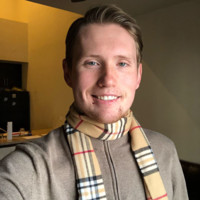 MONDAY to FRIDAY -- 06:00 AM - 12:00 PM
Reily joins the good folks of Aberdeen from his roots in central Texas after being born and raised in the suburbs outside of San Antonio. In pursuit of his dream, he came up to Hub City Radio for the chance to build his on-air presence and play-by-play skills.
He graduated from Texas State University with a B.S. degree in Electronic Media and Mass Communication after deciding to pursue sports play-by-play during his freshman year of college. During his time as a Bobcat undergrad, (Eat Em Up Cats!) Mr. Chestnut cut his teeth in the sports department for TXST's acclaimed counter-culture radio station, KTSW-FM 89.9! Starting off as a reporter/producer/broadcaster on Texas State athletics, he soon rose to the head of his department. Reily got to lead a group of eager students in pursuit of stories, coverage and experience. This time serving as Director taught RC that you are only as strong as your weakest link and that nothing beats a quality and devoted leader.
Reily hopes to give Aberdeen/ Redfield/ area listeners a reason to look forward to the future as well as the day-to-day grind.  He also wants to pass along the message that even though he grew up with Asperger's syndrome, he's been able to pursue his dreams and succeed in the field of communications…so nothing should stop you from achieving your goals!